VENUE
LATA 2020 will take place in Milan, the third largest economy among European cities and one of the Four Motors for Europe. The venue will be:
University of Milano-Bicocca
Viale Piero e Alberto Pirelli 22
Building U6
Aula Mario Martini (Aula U6-04)
Milan
REGISTRATION:
The registration form can be found at:
https://lata2020.irdta.eu/registration
ACCESS to PROCEEDINGS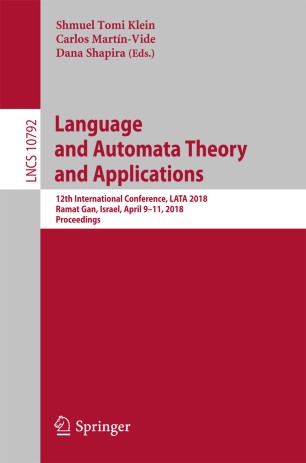 Free access to the proceedings of LATA 2020, LNCS 12038 for a period of 4 weeks:
Link to the proceedings on SpringerLink
STRUCTURE
LATA 2020 will consist of:
▸ invited talks
▸ peer-reviewed contributions
SUBMISSIONS
Authors are invited to submit non-anonymized papers in English presenting original and unpublished research. Papers should not exceed 12 single-spaced pages (all included) and should be prepared according to the standard format for Springer Verlag's LNCS series (see http://www.springer.com/computer/lncs?SGWID=0-164-6-793341-0). If necessary, exceptionally authors are allowed to provide missing proofs in a clearly marked appendix.
Submissions have to be uploaded to:
https://easychair.org/conferences/?conf=lata2020
QUESTIONS AND FURTHER INFORMATION
david (at) irdta.eu
ACKNOWLEDGMENTS
Università degli Studi di Milano-Bicocca
IRDTA – Institute for Research Development, Training and Advice, Brussels/London (http://www.irdta.eu)
SCOPE
Topics of either theoretical or applied interest include, but are not limited to:
algebraic language theory
algorithms for semi-structured data mining
algorithms on automata and words
automata and logic
automata for system analysis and programme verification
automata networks
automatic structures
codes
combinatorics on words
computational complexity
concurrency and Petri nets
data and image compression
descriptional complexity
foundations of finite state technology
foundations of XML
grammars (Chomsky hierarchy, contextual, unification, categorial, etc.)
grammatical inference, inductive inference and algorithmic learning
graphs and graph transformation
language varieties and semigroups
language-based cryptography
mathematical and logical foundations of programming methodologies
parallel and regulated rewriting
parsing
patterns
power series
string processing algorithms
symbolic dynamics
term rewriting
transducers
trees, tree languages and tree automata
weighted automata