How to travel
Missoula's airport MSO is accessible via several airlines. Other destination airports are unlikely to be more convenient, as the nearest large city is a ~8 hour drive away.
Most hotels in the area (including those with preferred rates for this conference) offer complimentary shuttles to/from the airport. Taxi service and ride share (Lyft & Uber) are also available to/from the airport.
Conference venue
AlCoB 2021 will be held on the campus of the University of Montana, in the University Center.
https://www.google.com/maps/@46.8601477,-113.9841989,16.98z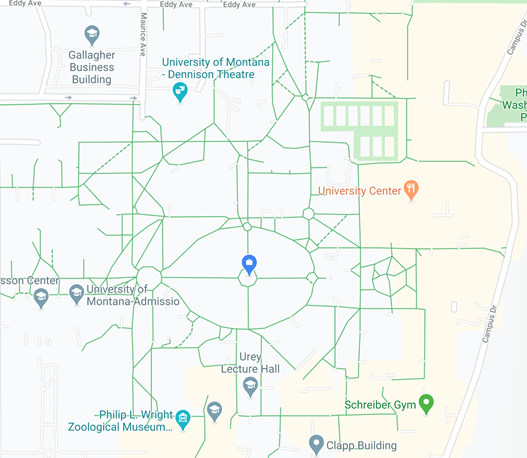 The conference meeting room is on the third floor of the UC, in rooms 330-332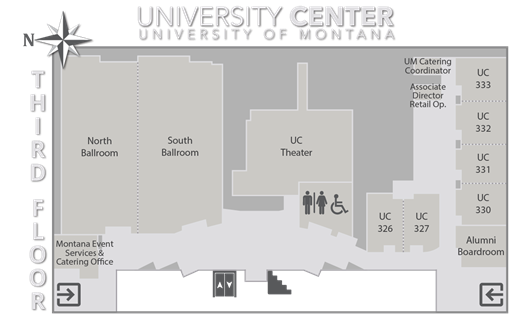 Transportation from hotel to University Center
The Doubletree Inn is a 0.8 mile walk to the University Center: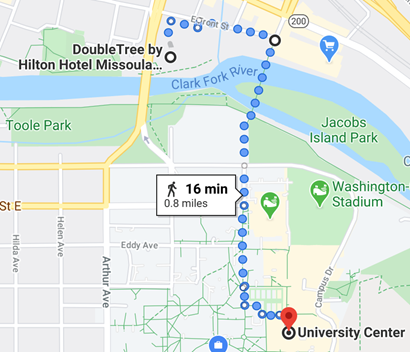 The Holiday Inn is a 0.9 mile walk to the University Center: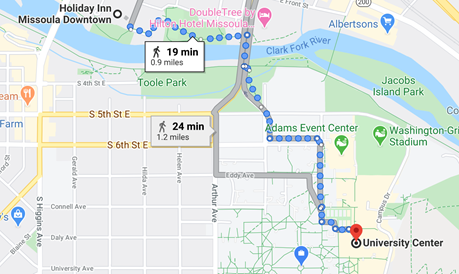 Other hotels in the area are easily reached by vehicle, taxi, or ride share. Paid parking is available to the East of the University Center.
Sights near the University venue
The University Center is about ¼ mile from a bridge over the Clark Fork River, and a few hundred feet from the base if a switchback trail up to the prominent 'M' on mount Sentinel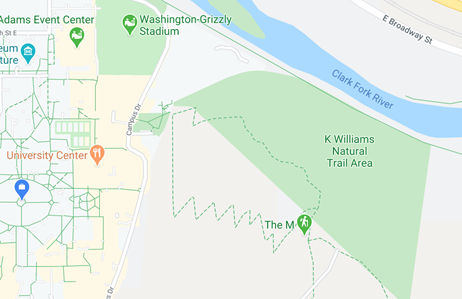 The trail to the M is ~2/3 mile long, with 800 feet of elevation gain. The trail continues to the top of Mount Sentinel, for an additional ~1½ miles and 1200 feet of elevation gain. Accessibility will depend on weather (especially: recent snowfall).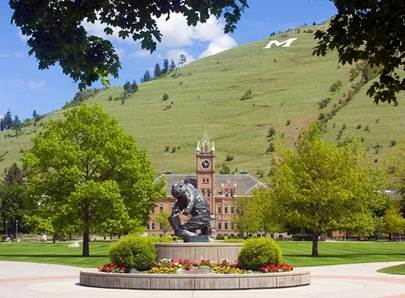 Getting around Missoula
During the day, the UC offers a market, coffee shop, and variety of dining options.
For the evening, Downtown Missoula offers a wide array of restaurants and local brew pubs. The conference preferred hotels are a short walk or drive to downtown, e.g. ~0.6 miles from the Doubletree Inn to the heart of downtown.